On This Page: Kelley Studios | Prices | Directions | More Pics
Kelley Studios
Kelley Studios brings light, color and form into spaces by creating art using glass and other mediums. The owner, Brenda Kelley, is known for her ability to render any image in finely crafted stained glass.
Along with an extensive art background, she apprenticed seven years with a third-generation family-owned stained glass company that is famous for their work on cathedrals. Twenty years ago, she opened her own business, Kelley Studios, and has continued to develop her skills in designing and building stained glass masterpieces for residential and commercial clients.
Brenda has a wonderful talent for intuiting her client's vision. She can turn the most rudimentary concept into a fully-realized design.
The studio is located in Grants Pass, Oregon. Our local commissioned work reaches throughout the Northwest, extending down into California. We work with clients across the nation, so don't hesitate to ask. One of our recent projects was a set of glazed double doors for a client in Maryland who wrote this:

"Unbelievably Gorgeous!!! We are in love with the stain glass door panels you created for us! Jerry picked the package up Friday and we installed them yesterday and they are OUT OF THIS WORLD! Your dimensions were dead-set, right-on, PERFECT!!!!"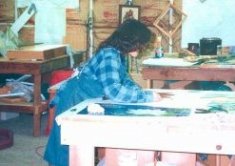 In the studio
Brenda Kelley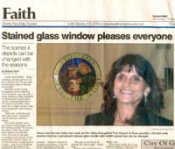 Grants Pass Daily Courier
article 11/25/05
photo Barbara Hahn
Pricing:
Windows and other projects are usually priced by the square foot, starting at about $200 to $300/sq ft. Of course, this is a baseline, and will fluctuate depending on the complexity and detail of the design within the square footage. Glass itself has a wide range of costs. We will work with you to assure that the project design and budget can achieve the desired effect.

We offer a free one-hour consultation at your home or business. If you prefer, or are not within driving distance, we will be happy to discuss your project ideas on the phone or by email. Consultations are free, but before we put pencil to paper, we will require a design fee.
Shipping:
We are able to crate and ship our work anywhere in the US. We will be happy to advise you of the cost of shipping when giving you an estimate.



Please call or email us for a consultation.


Directions:
Kelley Studios - Brenda Kelley (Owner/Operator)
4855 Redwood Hwy
Grants Pass, OR. 97527
(541)474-2138 (Home)
(541)660-4969 (Mobile)
Private studios: our doors are always open, but please call ahead for an appointment.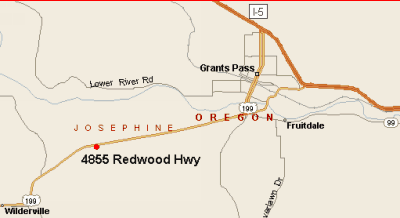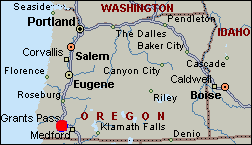 Pictures
We were at the 2007 Fall Home Show in Medford, OR, this year.
Click here for pictures of the show and more.
Grants Pass Daily Courier
Home & Garden section article
on our stained glass classes
April 11, 2002
Check out..